Noise Insulation Parts
As the noise reduction level of engines and tires has been improving, the demand for noise insulation parts such as dash insulator has been increasing. We are participating in vehicle development from the initial stage and concentrating its efforts to enhance its noise insulation performance including NVH (noise, vibration, and harshness).
Dash Insulator
A dash insulator set in the space between body iron plate and dash board has the function to block sound, heat and vibration.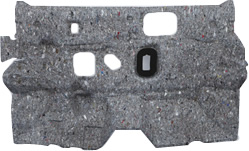 DDL Insulator
Lightweight and high sound absorption are realized by applying felt surface high density molding process.
Hood Insulator
This insulator is mounted to the back of a hood to block both sound and heat of an engine compartment.