Cabin trim
We see the cabin space composed of door trim or headlining as totally coordinated system and pursue attractive quality, comfort and safety.
Door trim
This is a door lining panel, one of important components of cabin space. To add various decorations and functions as module allows the improvement of an appearance as well as dressing of comfortable car interior. This part is required not only to secure the collision safety but also to reduce weight and to improve attractive quality.
High quality door trim parts such as KIMEKOMI or metallic decoration that are appropriate to high class premium brand.

Lightweight and high damage resistance are improved by applying straight PP materials available for foam molding and chemical foamed materials counter pressure method.

Door trim to meet the overseas car manufacturers' requests such aslocal production and high quality.

To offer proper handling regardless of whether or not to have a cloth, Kimekomi method that a piece of fabric is squeezed into narrow grooves on trimmed surface is introduced.

Eco-friendly and high quality door trim with new values.

High quality door trim parts such as KIMEKOMI or metallic decoration that are appropriate to high class premium brand.

Significant weight reduction is realized by using foamed PP seat as core materials.

Door trim for compact car that achieved higher quality.
Headlining
This is the cover for an interior ceiling. Recently it has been modularized by adding various functions such as illumination, storage space, air conditioning and heat insulation to this part.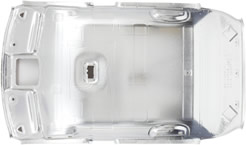 Heat Shield Headlining
Energy saving, lightweight and cost reduction are realized by improving internal and external heat resistance performance.
In summer, the heat from a body panel is reflected and a cooling effect is improved. In winter, radiation of heat from a headlining to a body is reduced and heating effect is improved.

Sunvisor
This is the part to block sunlight. The functions such as expansion of light shielded area, mirror for make-up and installation of illumination have been developing according to market needs.

SOR Sunvisor
(Slide-on-Rod Sun Visor)
SOR(Slide On Rod)
Simple structure sunvisor composed of small number of components
Rear parcel shelf
This is the tray at the space between rear sheet and rear window. Accessories such as speaker are mounted to this part.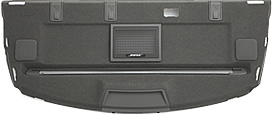 Rear parcel shelf
(KPM Bleed Molding)
This part is produced by simultaneous bleed molding of speaker grill normally composed with separated part.
Map lamp(Electronic parts)
In accordance with the trend to adopt interior illumination for headlining and door trim to produce night cabin space, we have been proposing and developing new style of lighting that spot light and ambient light are combined by employing optical simulation.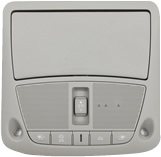 LED map lamp
LED map lamp mounted to a vehicle as common parts
Body side trim
This part is mounted to the periphery of an iron plate of door opening and has impact absorption, inside sealing and appearance improvement functions.